NORTH TOURS DEPARTURE 9 A.M HOTEL
PRICE: 3200 – 3600 MUR
Pamplemousses botanical garden
L'aventure du Sucre (on demand)
Port -Louis ( Visit the museum, market, Caudan waterfront and Citadel fort)
Mont choisy beach (Swimming)
Grand-bay (La croisette mall)
Cap Malheureux (Red Church)
*Entrance at Pamplemousses/L'aventure du Sucre Garden not included.
Pamplemousses Botanical Garden
The Sir Seewoosagur Ramgoolam Botanical Garden or the SSR Botanical Garden for short or better still the Pamplemousses Botanical Garden, any of the names listed is the correct name of a popular tourist attraction site in the Republic of Mauritius on the Indian Ocean.
It is one of the most popular tourist attractions in Africa and is easily reached from almost anywhere on the island and experts say after London's Kew Gardens, the SSR Botanical Gardens is one of the best places in the world to learn about plants, trees, flowers and species of some endemic plants.
The garden is precisely located in the village of Pamplemousses, which lies about seven miles North East of the national Capital, Port Louis and experts say it covers an area approximately, 62,040 acres of land made up of various species of plants. (Entrance 200 MUR)
Sugar Adventure – L'aventure du Sucre
Once lusted after as much as gold, as much sought after as Indian spices, as sweet on the palate as silk is round a woman's neck, sugar has enjoyed an extraordinary existence, leaving a profound impression on the history and identity of Mauritius. Travelling through the museum, visitors learn about the deeply intertwined history of sugar and Mauritius, how it has all led to the harmonious, smiling and multicultural society it is today. (Entrance Adult – 400 MUR, Child – 200 MUR)
Port-Louis – Capital City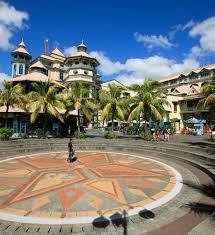 The city of Port-Louis has played a leading part in the struggle between the French and British occupation (1735-1935) and was considered during that period as `the star and the key of the Indian Ocean`. There are many historical places and buildings to visit. It is also one of the best place to learn and appreciate more about the Mauritian cultures and traditions.
Mont Choisy beach
Mont Choisy beach can be reached in a little over 5 minutes by bus from Grand Baie. This quiet beach, backed by tall casuarina trees, was my favorite beach during my visit to Mauritius in February 2008.
The long stretch of golden sand was almost empty during my visit, with rows of unoccupied sun beds and plenty of space to lay out my towel.
The water is warm, shallow and crystal clear. Unlike the beach at Grand Baie, you can enjoy a swim without the sea being busy with fishing boats. And unlike the beaches at Trou aux Biches, where there are lots of watersports on offer, you don't have to keep an eye out for speedboats and jet skis.
Grand Baie La Croisette
Grand Baie La Croisette is a totally new concept of urban lifestyle in Mauritius.
Its mixed-use development encompasses modern urban living, spaces to enjoy and a mix of leisure activities. The complex sits on a 29 arpent urban lot, complete with a central outdoor esplanade, grade A offices, luxury apartments, trendy and upscale retail shops and abundant on-site covered parking. It harmoniously combines a number of different activities for a new interpretation of shopping, work and leisure. More than just a premier shopping destination, more than just a luxury residential complex, more than just a premium office complex, Grand Baie La Croisette is the essence of new urban living.