Casela Quad Details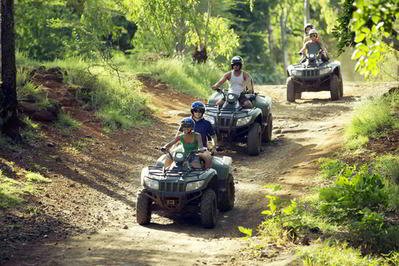 Experience the excitement of riding our quad and buggy on a rugged plateau and come across zebras, ostriches and African antelopes in their natural environment (1 hour). To get going… you may also want to book for an extra hour and drive through the bordering Yemen Nature Reserve, with its indigenous dry forest whereby you'll observe wild boars, deer and exotic birds.
Every rider gets an initiation ride and completes a short circuit to understand the basics of quad and buggy riding. All outings are spearheaded by a professional guide and comprise of a photographer.
You will have the opportunity to purchase the photos right after the tour. Casela World of Adventures provides helmets, hygienic caps, safety glasses, cold towels after the trip and shower facilities.
– Minimum height of Quad passengers: 1.35m
– Minimum height of Buggy passengers: 1.20m
Note: Participants must be physically competent in order to undertake this activity. Drivers should be 16 years old (minimum) and passengers 12 years old (minimum) for Quad biking. Drivers should be 16 years old (minimum) and passengers 6 years old (minimum) for the Buggy.
For Big Cats lovers, this is a dream come true! Far from the African savannah, experience the thrill of coming close to a King! This activity is unique to Mauritius and Casela World of Adventures offers 4 outstanding discoveries
Drive thru: RS 300
Some 20 minutes' drive on a rugged terrain will bring you closer to our roaring lions! Left to their own devices on a 12 acres site, these ex-stars of the 'Walk with the lions' activity – now grown too big to pose – can be seenclimbing trees, chasing rabbits, playing amongst themselves or doing what lions do best; just letting the day go by… If you are lucky, you might witness a keeper playing with them. All you have to do is keep you camera on alert!
Viewing: RS100
Younger guests can observe the Big Cats in a secure environment, perched on a platform overlooking their enclosures.
Walk with the lions: RS 3500
What a feeling to roam alongside the king of the jungle! This walk takes place by the Rempart River and a safety briefing is mandatory by the expert animal handlers before you set out to witness the sheer majestic and noble behaviour of our lions…
Interaction: RS 700
For true fans, get up-close and personal with the lion king through an encounter of a unique kind. Get your picture taken while you give the beast a pat and feel the sudden surge of emotions! Thanks to the professional team of supervisors, you never walk alone…
Interactions last approximately 10 to 15 minutes inside the enclosure.
Note:
Participants must be at least 15 years old and 1m50 tall
Participants must be physically and mentally able to perform this particular activity
All participants must understand English or French, so they can follow the instructions of our guides while dealing with the animals. This is very important for the safety of this activity.