No Advance Payment Required !
No advance payment required, Pay only when you reach your destination.
Cheapest Prices !
Cheapest price and pay same price any destination all around Mauritius.
Flexible Dates !
Flexible dates, last minutes modification without any additional cost.
Rodrigues Taxi Transfer
Please fill in the details below to get free taxi quote.
*
Rodrigues Taxi Service
– Prices for one way transfer only. You may contact Us for a free quote.

* Prices are any destinations all around Rodrigues Island
* Free Baby seat (max 25 Kg) on request
Things to Know !!
– You will be entitle for FREE briefing by a holiday expert that will help you plan your holiday in Mauritius.
– Up to 10% Discount if you book additional services
– All our Vehicles are full-option, clean, comfortable and are between year 2012 to 2016 and are air conditioned.
– You are booking for a PRIVATE vehicle, no group transfer. The driver will personally attend you, wait for you and only leave once you reach the required destination.
– Our driver will wait for you at the airport lounge with your name written on a card.
– Payment can only be made cash in Mauritian Rupees, Euros, Gbp or Usd to driver directly.
– We have more than 50 drivers all around Mauritius and Rodrigues, you can even book at the last minute without any additional charges.
Minibus (Private) – 12 Persons Max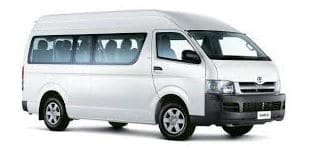 Car Taxi (Private) – 4 Persons Max